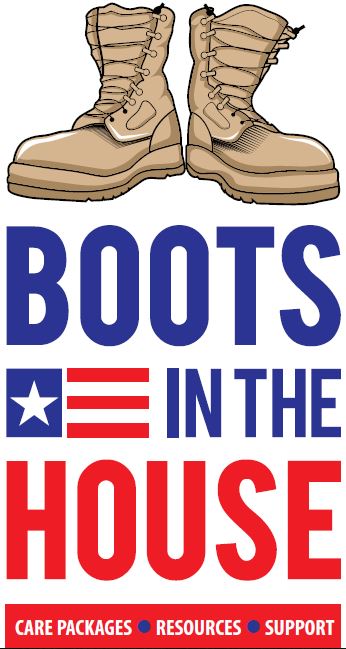 For Deployed Troops in Afghanistan,
Iraq, Naval Ships and Other Undisclosed
Locations Around the World.
All items can be dropped off at Happy Valley East.
Please have all donations in by April 13th
Donate items for our K9 Heroes as well. Please see the attached flyer for a list of care package items.
Printable Flyer: Boots in the House – For our Troops
Printable K9 Flyer: Boots in the House K9 – for our K9 Heroes
Top 10 Care Package Items
Every Item Makes A Difference!
***PLEASE NO EXPIRED ITEMS***
1. Nutrition: Protein, granola, energy and cereal bars, cheese/peanut butter
crackers, peanut butter, protein powder in packets/bags. NO plastic containers.
2. Tuna and Chicken: Individual packets/pouches. NO cans unless flip top.
3. Drink Mixes: Individual packets of water flavor enhancers, Gatorade, Mio,
1 lb. GROUND ONLY coffee packages, tea bags, hot chocolate packets.
4. Microwave Items: Mac and Cheese, single non frozen microwave meals,
soup, popcorn. NO CUP OF NOODLES/RAMEN IN STYROFOAM CUPS.
5. Jerky: NO PORK.
6. Nuts/Trail Mix: Individual packets preferred.
7. Entertainment: Magazines (new and used), crossword puzzles, DVD Movies,
playing cards, travel size board games, Frisbees, coloring books & pencils.
8. Miscellaneous: Ziploc bags (quart or gallon), laundry detergent pods (NO
liquid or powder detergent), ankle socks(white)-no low cut or no show allowed.
9. Toiletries: Hotel/travel size toiletries, toothpaste, toothbrushes, deodorant,
shampoo/conditioner, body wash, lip balm, feminine products, foot powder,
women's hair gel. MAX SIZE: 8 OZ. NO AEROSOL CANS.
10. Wipes: Baby, antibacterial and facial
For More Information or Questions:
Phone: 480-451-1400
Email: Support@BootsInTheHouse.com
Website: BootsInTheHouse.com
Thank you for showing your support to our Troops!